Actress, Amy Yasbeck has been devoting herself to shedding light on acute thoracic with the John Ritter Foundation for Aortic Health, a foundation she started after she lost her husband and beloved actor John Ritter, who was misdiagnosed with the disease in 2003.
On November 4th, the foundation hosted an Evening From The Heart at the Italian restaurant and nightclub LAVO in New York City. Held annually to raise funds and awareness for aortic health, the event-filled night included a partnership with Love for Livie and silent auction, where funds went to supporting further research, education, and advocacy on the rare, yet common disease.  

Guest attendees included Dan Finnerty (Actor, The Hangover), Kathy Najimy (Actor, Hocus Pocus) and Richard Kline (Three's Company).
Since her husband's passing, Yasbeck has faithfully worked to bring awareness to thoracic aortic disease, a disease where one has a weakened area in a main artery in the chest, causing extreme pain and difficulty breathing.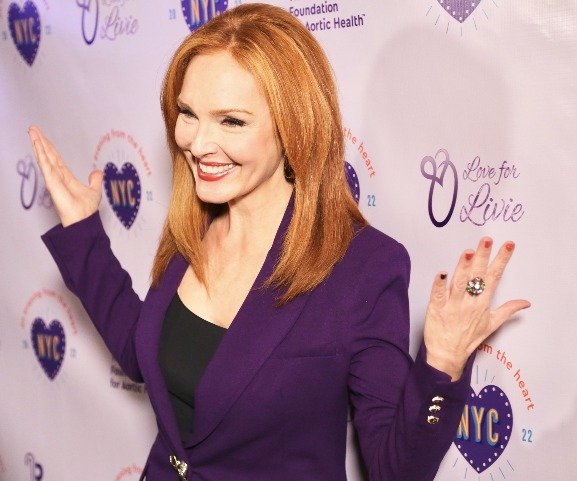 When Amy lost her husband unexpectedly to acute thoracic aortic dissection, she created The John Ritter foundation in his honor to shed light on the disease by advocating for more research since it is often misdiagnosed or unnoticed by medical professionals. Prior to his passing, John Ritter starred in many films and shows like Slingblade, Skin Deep, Problem Child, 8 Simple Rules for Dating My Teenage Daughter, andThree's Company, where he received a Primetime Emmy and Golden Globe Award for his work in the film.
Along with advocacy and awareness, the foundation has also worked to bring attention to how one can check for symptoms, and other lifesaving tips, to help those who suspect they may be experiencing thoracic aortic dissection.
The fifth annual An Evening From The Heart partnered with Love for Livie to share and further advocate ways that the destructive disease can take its form. In this case, a young two-year-old named Livie, who passed away from Smooth Muscle Dysfunction Syndrome, a rare disorder that includes thoracic aortic aneurysms and dissections. Similar to John's story, Livie had not received a proper diagnosis in time.
Livie and John's stories are just a couple out of the many people who quietly suffer and live with the life-threatening disease.
So far the organization has helped many people push for proper diagnosis while continuing to spread awareness and gather further research.
Amy continues to honor her husband's legacy with the foundation. As John Ritter said, "I want to be remembered as just a guy who was interested in the golden thread of humanity that intertwines us all together." The John Ritter Foundation is surely working to make that happen by bringing people together to help save the lives of those dealing with the deadly disease.
For more information on the John Ritter Foundation please visit,johnritterfoundation.org.