From Ukraine to the USA, her journey to success has been incredible.
In recent years, the modelling industry has experienced a surge in popularity, with Ukrainian models leading the charge. These models have been stepping into the spotlight and making a big impact in the modelling world. Ukraine has become a hotbed of talent as many models have been gracing the cover of magazines and runways across the globe. The country is also home to many modelling agencies, which have been instrumental in launching the careers of many of the country's top models. Here we talk about one name from this part of the world who has made a meteoric rise in the fashion modelling industry. She has been featured on the cover of some of the world's most prestigious fashion magazines and has become a staple in the fashion world. She is Julia Reno.
This Ukrainian model, who also happens to be a popular face on Instagram today, has gained a loyal following due to her unique style and captivating presence. Her ability to capture the attention of audiences and her willingness to take on daring and bold looks has earned her a place as one of the top models in the industry. Having worked with some of the world's best designers, she has become a favorite among photographers. She has made a name for herself in the American fashion Industry, having a done impressive work like modelling for shoe designer John Ashford in New York, working with one of Minnesota's most sought after event organizer called Amanda Roseth for Minnesota's Ice Castle as a snow princess for 2 long years, has been a brand ambassador for New York and Company, Lugz, Shein, Dream Pairs, Members Only, Adrianna Papell, Wyndham Hotels and many more. She has even been invited to promote the Queen's Ball: A Bridgerton Experience in Minneapolis (MN), which is an immersive Regency-era ball inspired by the Shondaland hit series on Netflix.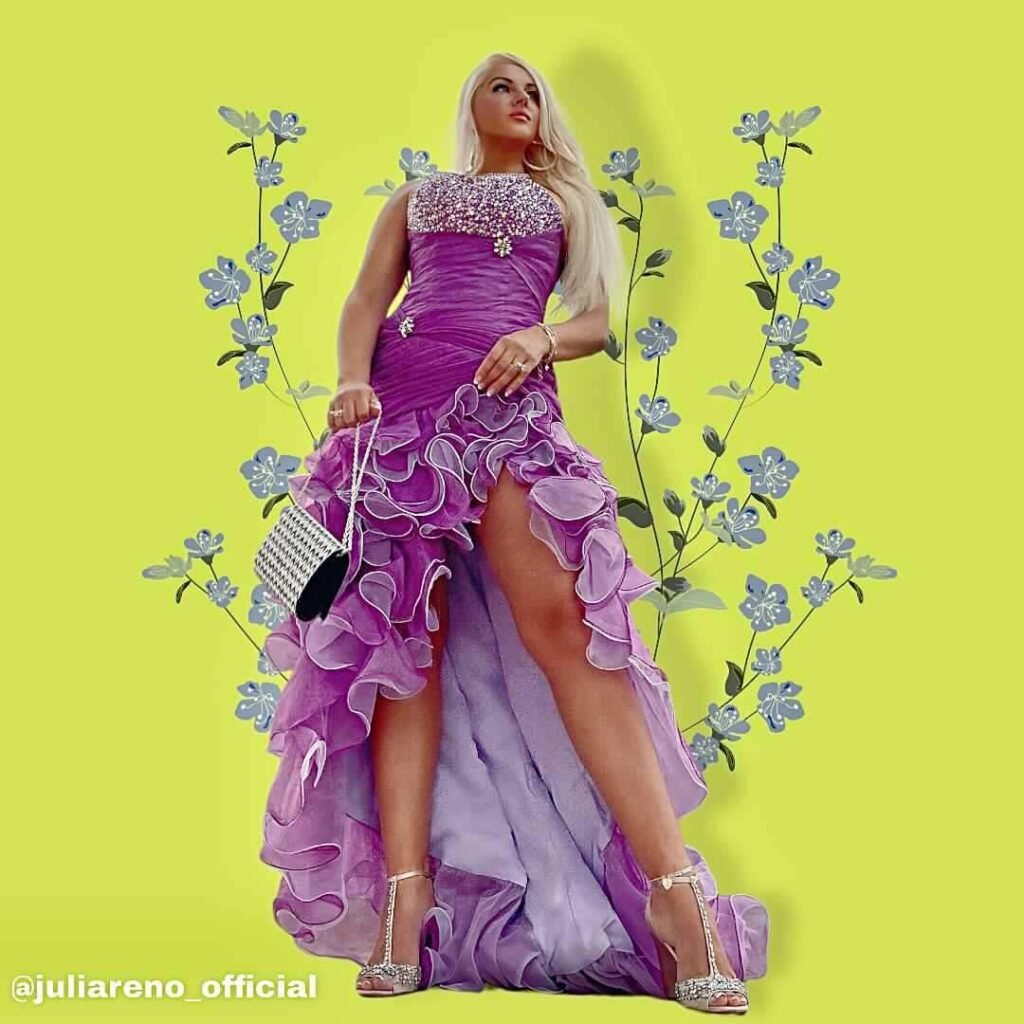 Speaking about taking giant strides in her career, Julia says, "Recently, I had the privilege of taking classes at Harvard Business School. Established in 1908, Harvard is widely regarded as one of the most esteemed business institutions in the world. I chose to take Entrepreneurship Essentials, which proved to be one of the best decisions I have ever made. The school presented me with invaluable knowledge and allowed me to gain a fresh perspective on how to innovate." Julia recalls how her early life was full of challenges as she had to undergo 14 ear surgeries which left her nearly deaf, but thanks to the innovative technologies, she was able to regain her hearing with the help of advanced hearing aids.
She has come a long way from the time she started when she won the Miss Fall competition back at her beauty school in Ukraine. Today, she is a model, a social media personality and also does a bit of home decor as she is passionate about it. Julia Reno is a fine example who proves that hard work pays off, as she stands as an inspiration to aspiring models everywhere.
To find out more follow her on Instagram @juliareno_official