Kymberly Harris says her love of film started at the age of six when she began watching the Criterion Collection alongside her cinephile father. She adds that she was "primed to tell stories" from an early age. But, although she was introduced to the beauty of films and storytelling in her youth, she wasn't aware that her calling would be directing.
Soon after earning degrees in theatre, acting and playwriting, Kymberly took to the streets of New York to explore filmmaking and acting. It was in Los Angeles when someone asked her to direct a short she had written, and that's when it all clicked for her. "I realized film directing is my real passion and that there was a place for all of the skill sets to go." Kymberly continues, "[I] didn't understand [that] directing was an immediate option for me… I've been writing and directing ever since.".
Six years later, Kymberly has released her latest feature film, I Heard Sarah. She was inspired by the film's lead, Dan Adoniev. When Dan walked into Kymberly's method acting class at the Lee Strasberg Film and Theatre Institute, he showed up late, disheveled, and with some sort of rock star quality. The art mirrored life in this film, and together Dan and Kymberly developed it with what Kymberly calls " a real indie spirit."
I Heard Sarah follows Troubled rockstar Ian Ford, played by Dan Adoniev, who escapes from court-mandated rehab to visit his childhood friend and go back to where it all started. While he has been living the high life, touring the world for the past six years, his former best friend and bandmate, Josh, played by Cameron Jones, got married and started teaching music to high schoolers in their hometown. When Ian arrives home, he throws Josh's life upside down, all because Ian needs to reveal a deadly secret that forces both men to face the truth that their mutual love of a girl named Sarah was the driving force that broke them apart all those years ago.
Ian's story is that of a lost kid who skyrockets to fame as quickly as he falls down the rabbit hole of drugs, addiction, and fame. Ian is forced to fight his inner demons through no fault of his own. Coming from a troubled family and with no true north on his moral compass, it was easy for him to get lost in all the noise. Another likeness Dan shares to his character Ian is that they both have a personal story of" rising, stumbling, and then finding a path forward," as Kymberly puts it. In a situation when your parents aren't there to guide you, you're left to your own devices. This script is extremely personal to Dan, and in it you can see how he works through real emotions that he has experienced.
Recovering addicts can resonate deeply with this movie, but it's also a story that rings true for everyone. Aren't we all moving forward into a new chapter in our lives? As humans, we constantly reorient ourselves to the challenges or changes that we face. However, we don't always find ourselves facing the right way, as Ian and Josh do in this play. Audiences will find themselves in them both as well.
Kymberly delights in the fact that filmmaking allows her to be so specific regarding developing characters. She says, "The band [in the film] even wrote a song together in between scenes that became part of the film." She allowed the actors to act out on their impulses because Kymberly is interested in character layers. When actors have this free space to explore the depth of their characters, you're left with a deeply personal and poetic film. The film features fresh moments, such as when "Ian" and "Skate" improvised and ran up to a real TMZ bus. Without straying away from the story's development and arc, they make the film more intimate and exciting.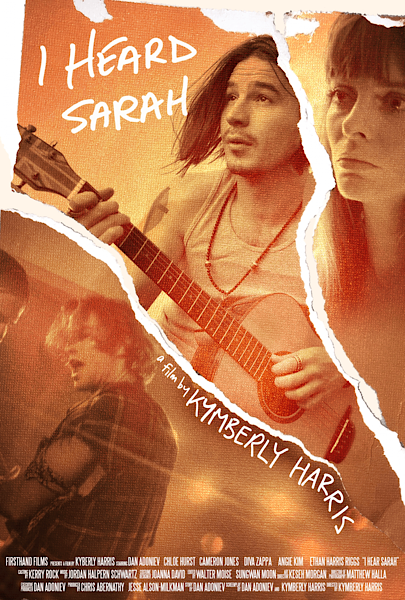 This film is shot with so much ambition and spirit it is unbelievable that within a week, Kymberly managed to shoot a film along the Pacific Coast Highway, in Elton John's mansion, on Sunset Boulevard, and film two music videos for the movie. It's admirable that Kymberly is demonstrating that it doesn't take months of filming and a hefty budget to produce an engaging and meaningful film.
She built layers on top of characters that made them come to life and created a fantastic work of art. I Heard Sarah has resonated with viewers on their journey to recovery and with audiences that have found themselves off the beaten path. Once you experience this film, you'll have a newfound admiration for Kymberly Harris.Next year, you should keep an eye out for her upcoming features.