In the vibrant world of film and media composition, Australian talent Jacquie Joy is making headlines as she receives a prestigious nomination for the 2023 Hollywood Music in Media Awards (HMMA). Joy, a versatile film and media composer, and music producer, has been recognized (alongside her collaborator Madeleine Chaplain) for her outstanding work on the song "Take Me," featured in the short film "The Bank Manager."
This piece of music has earned a nomination in the song-short film category, and the anticipation is building as the HMMA award ceremony approaches on November 15th at The Avalon, Hollywood.
"Take Me," is a composition co-written, arranged, and produced by Jacquie Joy, is a retro rock blues track and stands out for it's seamless integration with the narrative and opening visuals of "The Bank Manager." 

Adding another layer of songwriting prowess to "Take Me" is the contribution of co-nominee Madeleine Chaplain. An accomplished Australian filmmaker, singer, scriptwriter, and actress, Chaplain collaborated with Joy, co-writing and lending her dynamic vocals to the song. Chaplain was the visionary for this song and also was the scriptwriter and director (as well as playing lead role "Peach") for "The Bank Manager".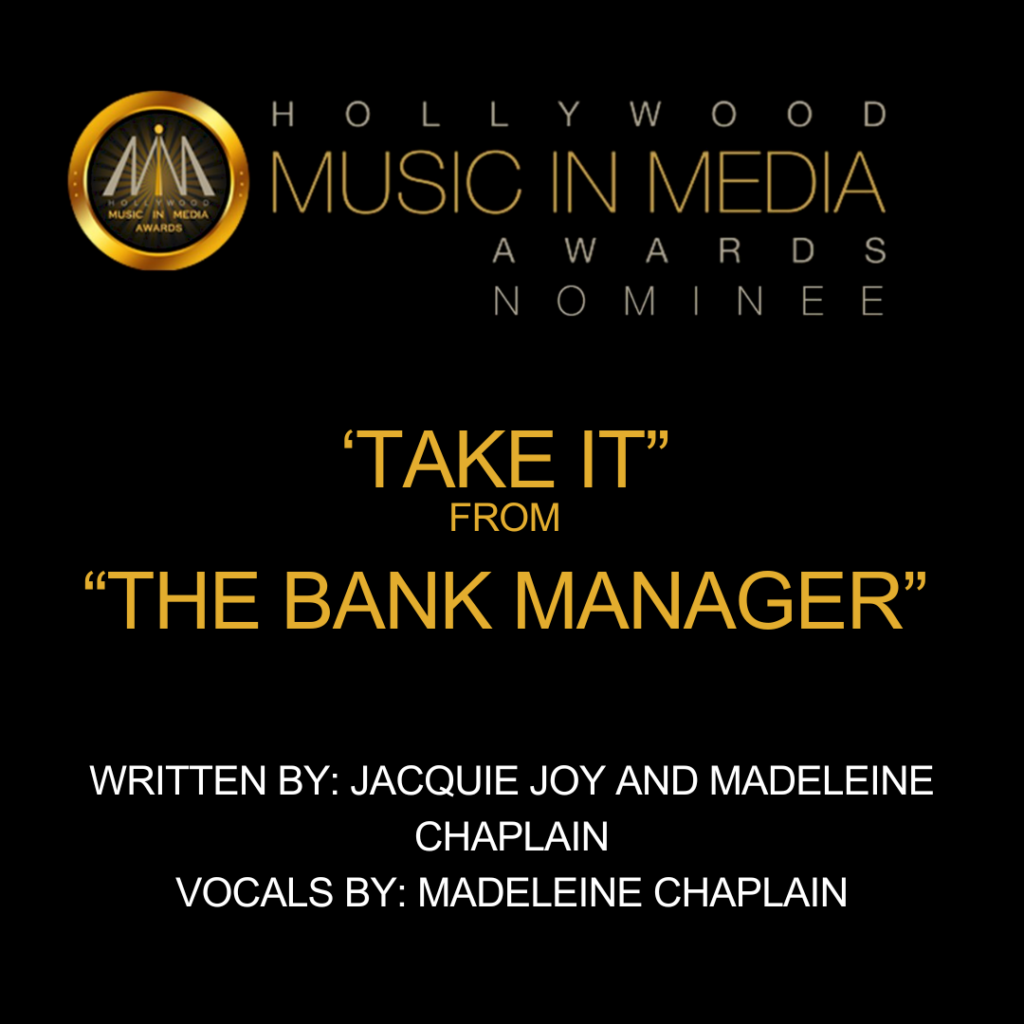 The Hollywood Music in Media Award nomination is a significant achievement, especially for artists from Down Under, showcasing the global reach of Australian talent in the entertainment industry. The recognition also highlights the growing influence of women in key creative roles, breaking barriers and inspiring others to pursue their passions fearlessly.
This is Jacquie's 5th HMMA nomination- previously getting nominated in 2020 and 2021 for Best World Music Categories, and also in 2022 for Best Horror/Thriller and Best Dramatic/Crime Music. Other nominees in this song-short film category include Richard M Sherman, Nathan Halpern and Alexandra Petrovski. Other HMMA nominations for visual media include 2 songs from the Barbie film which were penned by Billie Eilish and also Mark Ronson.
For Jacquie Joy and Madeleine Chaplain, the nomination is not just a personal achievement but also a recognition of the collaborative spirit that defines the art of filmmaking. Their journey from conceptualizing "Take Me" to receiving a nomination for the HMMA awards exemplifies the power of creative collaboration and the ability of music to elevate storytelling to new heights.
As we eagerly await the outcome of the HMMA awards on November 15th, there's no doubt that Jacquie Joy and Madeleine Chaplain's "Take Me" will continue to resonate with audiences and stand as a testament to the transformative power of music in the world of cinema. Regardless of the final outcome, their nomination is a shining moment for Australian talent on the global stage, reminding us of the diversity and depth of creativity that thrives in the land Down Under.
You can find out more about Jacquie Joy at her website: https://jacquiejoycomposer.com